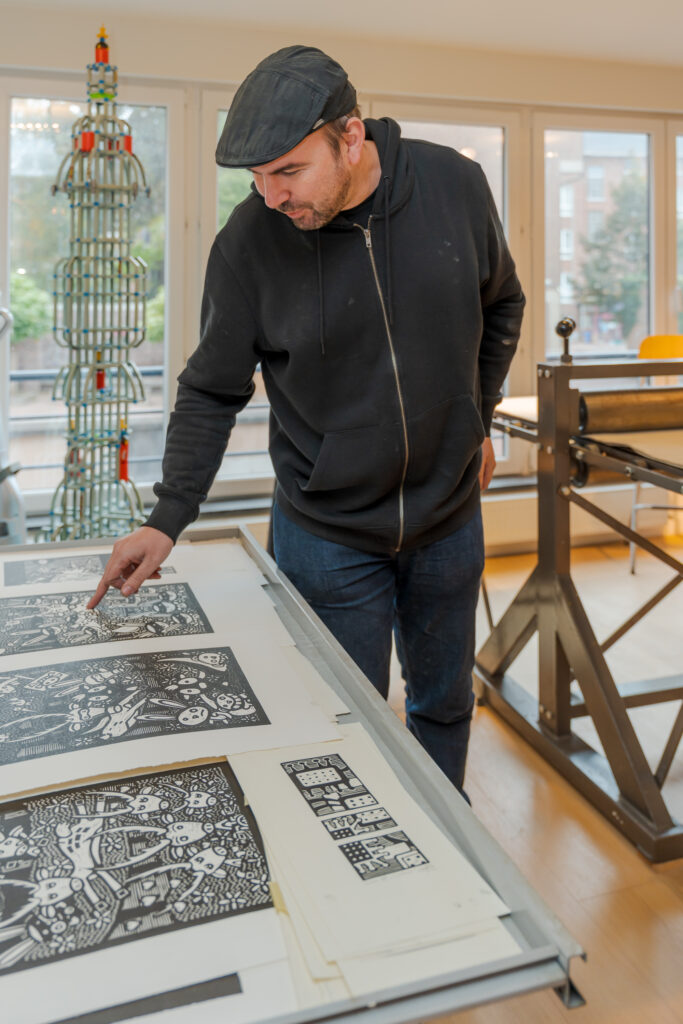 FROM IMAGINATION TO IMAGE
The world of Captain Bebop is inhabited by countless strange, but also recognisable creatures and figures. They take spectators into their story and lead them into a spectacle that feels at once bizarre and very familiar.
For the Captain, things are just the way they are. He brings together various highly recognisable elements into a coherent whole.
The design process is a constant probing between form and image.
Through Captain Bebop, Raf Roefflaer (1980) has been sharing a piece of his mind with his surroundings for more than 15 years. He constructs everything he makes from images and memories from his own environment. He wants to drag people into his own imaginary world and use images to create a dialogue.
Raf Roefflaer graduated in June 2003 as Master in Product Design from the Media & Design Academy in Genk. In the same year, he also obtained his certificate in Free Graphics at the Haspengouw Academy of Fine Arts in Sint-Truiden. Here he focused mainly on the art of linocut. His seemingly simple figures in strongly balanced white-black contrasts are part of a complex story in which the viewer is forced to make connections and look for the story behind the image.
He continues this highly recognisable visual language in his installations, paintings and sculptures. Each figure or sculpture has its own history, and each time the language of form is completely in function of the story. 
In his search for forms and images and his background as an industrial designer, he soon switched to 3D figures. First out of wood, then polyesters followed.
He also started working more thematically over the years and certain figures were increasingly given leading roles. Space rabbits in the universe looking for roots, or princess Trudy (derived from Saint Trudo – patron saint of his hometown Sint-truiden) formed constructive elements in various works.
In the exhibition 'Aztec Adventure', he developed a completely fictional world in which he is an explorer in search of the mysterious world of 'Pechimebra'. Besides a number of linos with stories about a far-flung Aztec empire , the colourful polyesters were exchanged for more durable bronzes. Like real idols, the treasures are displayed centrally within the expo.
During his studies, Raf was awarded several times. In 2003, he received the Ri Coëme prize for his oeuvre. In 2009, when he later studied painting at the Haspengouw Academy of Fine Arts, the city of Sint-Truiden also awarded his work the City Prize.
Since 2003, Raf has diligently shared his experiences as an artist and designer with young people and adults at the Haspengouw Academy of Fine Arts, where he currently teaches animation and image. As a graphic designer, Raf also worked on a whole range of customised assignments for various cities and municipalities, companies and individuals. In recent years, he has also been increasingly active in decorating public spaces and designing sculptures and monuments.
Every year, Raf gives several workshops and lectures in and around Sint-Truiden, participates in various juries, is an active board member of the non-profit organisation kunst-groen and regularly acts as a curator.
In recent years, he has exhibited at various local, national and international exhibitions in Brussels, London, Helsinki, Turkey and Japan.